Events
The Kagyu Samye Ling Run
Sun 21st Apr 2013
organised by Central Scotland

Car Count : 12



The Kagyu Samye Ling Run

Sunday 21st April

Meet at 09:45 for a 10:00 departure
At
Hall Street Public Car Park,
Hall Street,
Innerleithen,
East Lothian.
EH44 6QT


Google Maps Link to Start Point



We've found something a little different for this run as you may have guessed from the title.

Located in a peaceful valley on the banks of the river Esk, Kagyu Samye Ling was the first Tibetan Buddhist Centre to have been established in the West. It is a centre for wisdom and learning within the Karma Kagyu tradition of Tibetan Buddhism and is open to people of all faiths and none.









The centre is open to the public to explore and soak up the quiet karma of this fascinating venue, this may be needed after the great roads we'll just have driven.

---
LUNCH

The Tibetan Tea Room/Cafe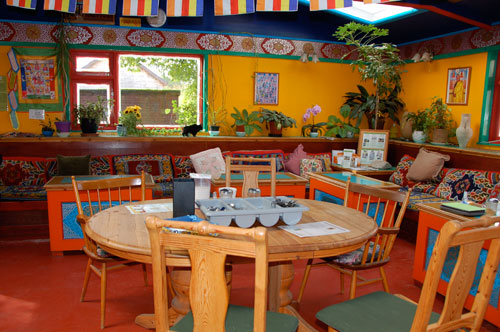 The warm, inviting atmosphere of the Tibetan Tea Rooms with its traditional decor provides a comfortable place to relax. It is open daily from 9am to 5pm and serves a selection of snacks including soup, paninis, toasties and a wide range of teas and coffees. Alternatively you are free to bring along your own picnic which can be taken at the car park.

---


Following the visit we will head for home on fantastic MX-5 style roads via St Mary's Loch and Megget and Talla Reservoirs. The end of the run will be at Lanark Loch where possible refreshments are available at The Inn on the Loch.

Event Organiser: Ian Ness

---

Members Attending:

01 - Ian
03 - Heather & Chic
05 - Maria & Jim
07 - Janet & Wattie
09 - Carol & Evan
11 - Irene & Ian
13 - Marcia & Raymond
14 - Richard
16 - Rosie & Alan
18 - Susan & Jill
19 - Angus
21 - Ali & Drew

---
If you If you wish to attend this event, please read the Drive Guide then post in the comment box below.
---
ROUTE INFORMATION

1 - Right click here to Download TomTom Sat Nav Itinerary.

Click here for instructions on how to download this file to your TomTom.

2 - Google Map of Route


View Larger Map

3 - Click on the link to download the Microsoft Word route.



20130421_Route.doc
Event Images


[Click here to upload your image(s)]
(A guide can be found on the help pages)


Your Comments
21st Apr 2013 18:35 :: Jim Ford
A big thank you to Ian for organising this run. It was a great day out with superb roads and a very interesting lunch venue, think I will have to take Maria back. Maria says thank you to all the people who were asking after her.




21st Apr 2013 20:27 :: alan and rosie
Thanks to Ian for a great day. shame about the weather in the morning, but at least we got the hoods down after lunch.




22nd Apr 2013 06:38 :: Angus
Great day out on new roads




22nd Apr 2013 07:22 :: Richardn
Thanks to Ian for this one, made a nice change to get out with you all again. Hood down before and after lunch!!




22nd Apr 2013 08:45 :: Gavin
Good to see the B709 being used again. Top Gear used to use this road when they came up north. We used it on previous runs to the borders years ago. Not many members left who will remember those runs.
Weather always used to be pretty drench around Eskdalemuir.




22nd Apr 2013 17:16 :: Evan & Carol
Many thanks to Ian for an interesting & enjoyable run. Suberb roads and countryside, slightly spoilt by rain in the morning.Nice to see Richard again.




23rd Apr 2013 15:03 :: wattie97
A big thanks and a well done to Ian for organising this day out.A great run on super roads and an interesting lunch venue.I still feel quite calm.
Wattie & Janet.




23rd Apr 2013 19:28 :: Marcia & Raymond
Thanks to Iain for an interesting run & day out incorporating detours due to the road closures. Good comms highlighting the "road imperfections", hopefully all emerged unscathed.




24th Apr 2013 07:54 :: chic and heather
Enjoyable run on interesting roads - even the detour was scenic. Unusual but peaceful lunch venue. Good to have Richard along again.
Thanks to ian for organising and keeping us warned of the potholes



<< Back to Central previous events