Well it seems that project threads are very popular these days, particularly on other forums such as
MX5Nutz
and
Clubroadster
. So on the back of this trend I have decided that I would do a back dated project thread for Annabelle. Annabelle is a UK edition 1.6 MX-5 in Silverstone and was first registered in June 1992.
Towards the end of 2006 I started lusting after some thing more sporty than my first two cars which were both 1.0 Nissan Micras after a couple of months of just keeping an eye on the classifieds and Ebay, I spot this pretty little silver MX5 on ebay, I went to have a look at her and she was just as pretty in flesh as it looked on the pictures.
These are the pictures from the ebay auction.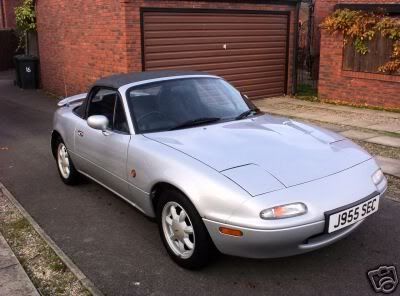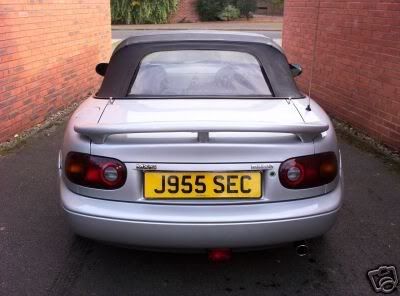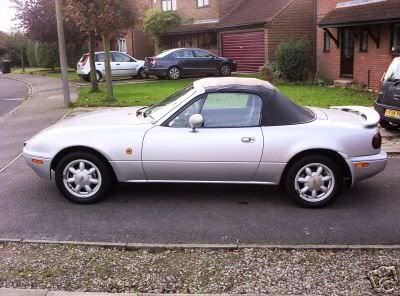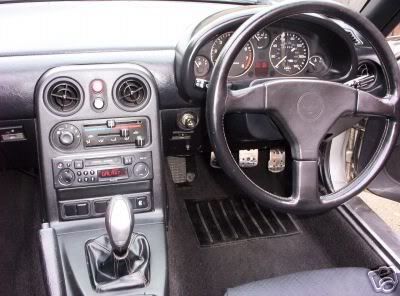 After seeing the car I put in my bid and there I was on the 17th November 2006 the proud owner of a MX5 with 93000 miles on the clock for just £1420. The previous owner was a nice guy and even drove it across to my house, so I didn't need to pick it up.
First couple of jobs I got done was fit transferred JVC MP3/CD head unit from my Purple Micra to the '5. Get Mazda floor mats, fix the lighter socket and get it through its next MOT, with the replacement of a front track rod end and the rear brakes
This picture was taken early Spring 2007, you can see some of the rust on the front wing.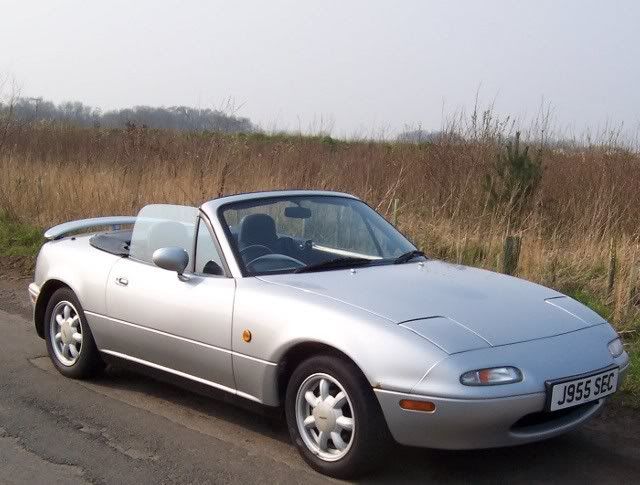 Once that was done I continued to enjoy my car through to mid May when I had an extended time of sick. I was off work for over 3 months recovering. My dad was very good worked on the car while I looked on and pointed only managing some light tasks myself. This included removing the from bumper to fix some rust on the front of the front wings and some behind the bumper its self. Also did the rear wings and got a local garage to weld up the usual problem with the rear quarters/sills. Replaced the
front brakes
with standard front discs and
EBC Greenstuff
front pads. Also got the rear brakes striped down, replaced the slider pin and put cooper grease on the appropriate bits.
Also at this time I got
front mud guards
, got the engine bay cleaned up, did a service including replacing the
Cam shaft sensor O ring
and the
Cam Cover gasket
. Got rid of those nasty cheap aftermarket windscreen washer nozzles and replaced them with
original type ones
.
I Fitted new 8mm
spark plug leads
.
After all of this work the looked like this.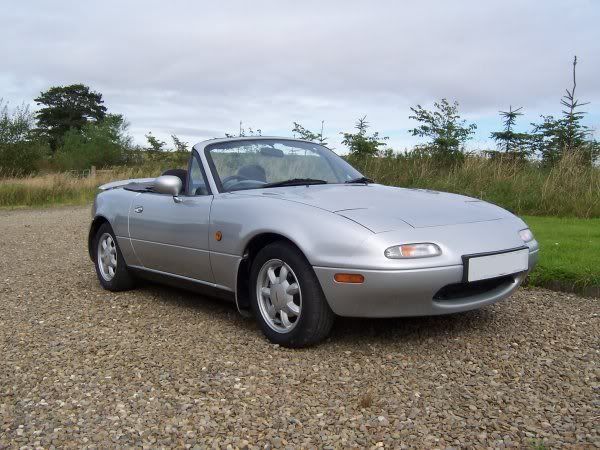 Soon after that I replaced the brake and clutch fluid as they were both clearly in need of changing.
Then the Real modifications started.
So I got a
IL motorsports front lower brace bar
and some nice
Gaz Adjustable Coilovers from Absolutely Shocks
Got these fitted along with associated bits over Christmas 2007, when I did the front suspension I decided the easiest was was just to cut the old shocks out with an angle grinder.
I also got some small
JVC speakers
to put into the headrest.
After fitting the suspension I realised the drop link bushes had seen better days and something needed to be done. I decided that I would get some of
these
from MX5MAD. I got really lucky with these, as on the day I was going to fit them I was coming back from Inverurie back to my parents house and one of the original front drop links snaped. Its very interesting driving the car with effectively no front anti roll bar.
I then managed to find a Mazda type front strut brace bar from ebay.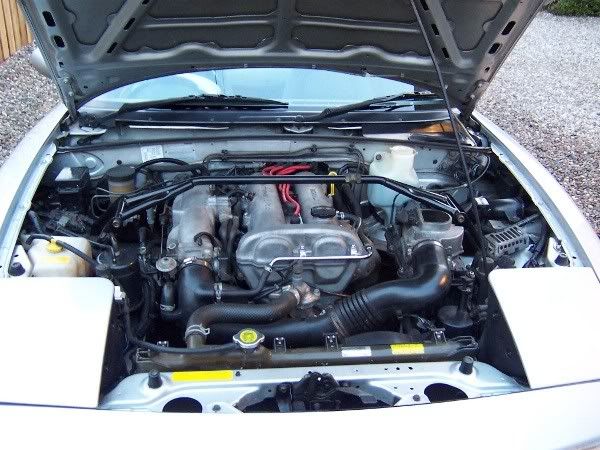 In April 2008 I decided that it was time to do a
cam belt
change. At the same time I replaced the
the
water pump
, the
Cam shaft O rings
, power steering belt and the Alternator belt along with the associated Cam belt tensioners. This was a easier job than the suspension. At this time I also set the timing to 14 degrees.
I got a
Plastic wind blocker
and a
leather gear lever gaiter
, I also replaced the two
gear lever boots
and the
little plastic cup
. At around this time I also removed the nasty Aftermarket gear nob that the car car with with a original type one of ebay, this was so much better as its correctly weighted.
I then replaced the Door speakers with some after market ones as the original ones had completely fallen apart. To be honest I'm that impressed with them as my JVC headrest ones can out perform them, might replace them again at some point but they do the job at the moment.
Also during summer 2008 I removed the Rear boot spoiler as I think the car looks better with out it.
I then started to look at getting new alloys but decided that before this I would get a CAT 1 Alarm/immobilser fitted. I got this done by
Auto Security Systems
.The good thing is that they are a local company and came out and fitted it a my work.
Once this was fitted it was time for some new wheels and it came down to a choice of two, both from the
Rota Wheels
light weight range. My first choice was Rata Grid, but they didn't have them in Silver so my second choice was Rota Subzero. So I got them ordered and fitted by the guys at
Revolution
near Newcastle in November 2008. They are 15' with Toyo T1R 195/50 on.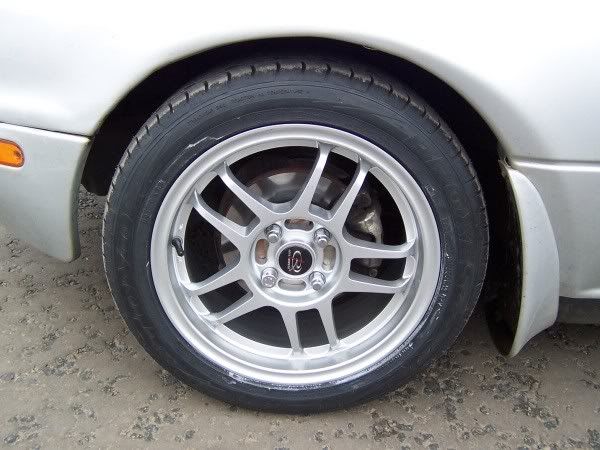 Around last Christmas I removed one of the Tow hooks from each end of the car and also
removed the Carbon Canister
as it was split anyway.
Well that about brings us to now. I will endeavour to update this as I do further jobs and Modifications. I hope you have enjoyed reading this so far.