Thought i'd quite like a battery monitor to keep an eye on the state of the battery and to check that the alternator is working correctly and not over charging.....
So bought this item from ebay (200547996513) and thought about how to mount it inside the car.....
Have got a switch blank and thought i could fit it in there - so with a bit of fettling i managed to fit the battery/charge monitor into the blank switch surround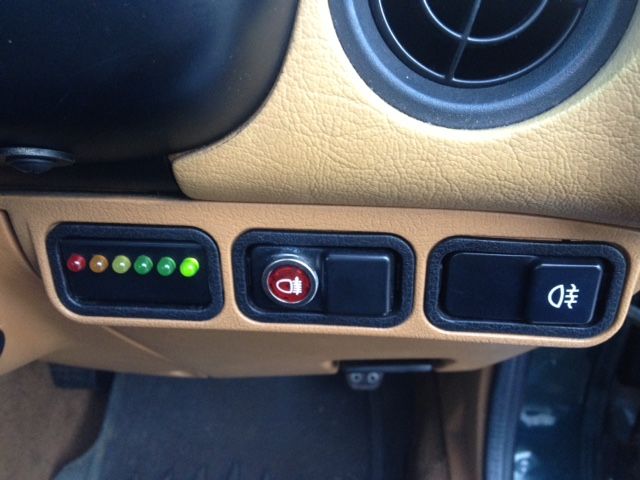 The unit comes with 3 wires red/blue/yellow
Connecting the blue wire to earth and the red wire to a permanent live i now have a fully functioning battery/charging monitor!
I didn't connect the yellow wire to give a bar graph type display as i only wanted 1 led to indicate the battery/charge state.
Using 1 led it only draws 2ma - so won't have a big drain on the battery.
Led colours indicate voltage:
3RD GREEN 12.5V +
2ND GREEN 12.1V
1ST GREEN 11.8V
YELLOW 11.5V
ORANGE 11.2V
RED 11V
RED (FLASHING SLOW) 10.7V
RED (FLASHING FAST) 10.5V
It also indicates over charging by flashing the 2 end led's (red and green) at 15.2v
Its not an advert for the item or the seller - but i think its a really good looking mod - especially if you have a switch blank!!
Daz