Hello. I am Peter, an inveterate roadster driver and long-time resident of Eagle River, Alaska. I cut my roadster teeth in the 70's driving MGBs– three of them to be exact, (a '67 and 2 '68s)– in Montana, Wyoming, and the Black Hills of South Dakota. I got thoroughly hooked on the roadster concept at an early age.
Then I moved to Alaska (w/o a B-car), raised a family, and got involved in salmon fishing, moose hunting, and other things. But last summer, I made acquaintance with the MX-5 (we call 'em Miatas here) and loved the concept of the reviving the roadster (
Jinba ittai
), using modern technology, such as double wishbones all around. Not to mention the great low prices for older, used models.
So, I picked up a high-milage white 1996 MX-5 Miata.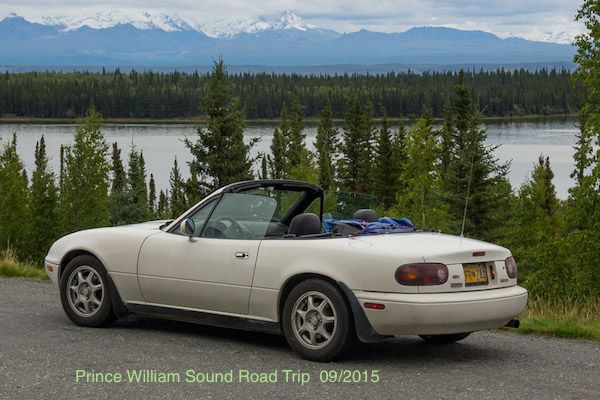 The body is in dandy shape and the motor is still quite punchy– at least by MX-5 standards. But the suspension was all original, and plain worn out. I replaced the shocks w/ custom adjustable gas coil-overs, installed beefier anti-roll bars, got new tires, and custom brakes from Flyin' Miata (
http://www.flyinmiata.com
, gotta love these guys). Oh yeah, and I joined the Alaska Miata Club.
Now I am not an auto-cross kind of guy, but I had to take this car on a before-and-after test track drive. What a fun car! And what a difference $3000 in undercarriage work makes. I am totally sold on the MX-5. Just wish I had come to this realization 10 years ago.
Another of my long-time passions is Scotch Whisky. I am hoping to combine both passions with a motor tour of Northern Scotland 's distilleries this next summer. Problem is, I won't have my MX-5. So my question to y'all is this: Any tips on where can I hire (or lease) an MX-5 in Scotland for the 2nd half of August (no auto transmission)? I know that locals don't tend to hire cars, so this forum may not be the best place to ask. Still, it is a start, and Google is not giving me useful answers.
PQO
PS: Yes, we

did

have a major earthquake (mag 7.1) early this morning (1:30 AM 24/1/2016 AKST) here in Cook Inlet. Fortunately, casualties were few to none, largely due to a sparse population and an aggressive building code that anticipates such natural disasters. After all, Cook Inlet

does

have a history of bad earthquakes (e.g. mag 9.1 in 1964)... Also, fortunately, no tsunami was generated.